How can I get my account?
All parents/guardians designated for "Portal Access" received an email with their initial account information. Search your email account for an email from: registration@linkit.com. The subject line is: LinkIt Parent Portal Account Registration - Upper Dublin School District
The email contains a unique code that you use to create your account and your password. The code does not expire. Go to: https://upperdublin.linkit.com/Parent and click on "Have a registration code?" to create your account.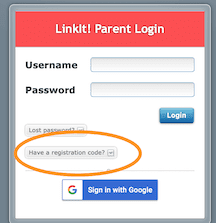 If you have a Google account, you may link your google account after you have entered the Registration Code.
If you did not receive an account code:
Accounts will be created and sent to parents/guardians who are designated for Portal Access in Infinite Campus. If you did not receive an account, please contact your school's main office to be sure your correct email is in the Infinite Campus System.
My account code is not working:
Be sure you are using the same email address where you received the account code. The account code is tied to a specific email address. If the account code does not work, that means it has been activated already and you should do a password recovery (Lost password).
What is the website for the Parent Portal? https://upperdublin.linkit.com/Parent
I forgot my password:
Click on "Lost password" and enter the primary email address that you have on file with the school system (Hint: the email address to which you receive Infinite Campus emails).
I cannot see all of my children in LinkIt? Why is that?
If you log on and do not see a child in the account, then that child is not linked to your correct email address in our school information system (Infinite Campus). Please contact the school's main office to have the "missing" child correctly linked in Infinite Campus.